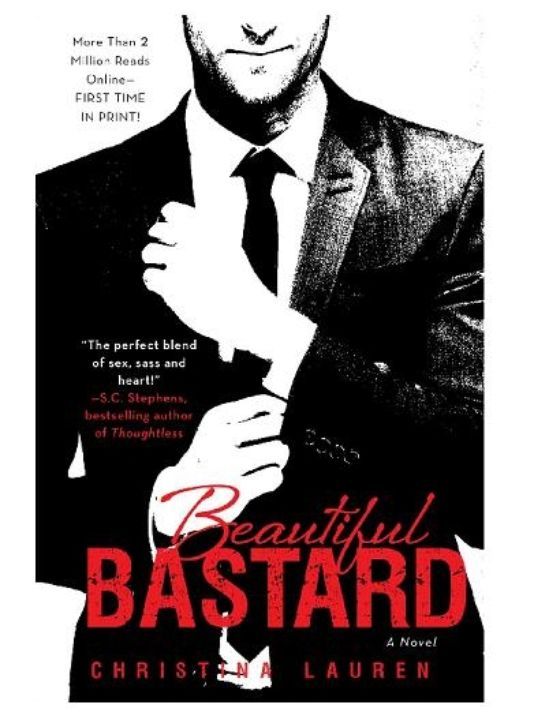 Author:
Christina Lauren
Publisher: Gallery Books
Pages:
305
Rating:
4 Stars
Synopsis: Whip-smart, hardworking, and on her way to an MBA, Chole Mills has only one problem: her boss, Bennett Ryan. He's exacting, blunt, inconsiderate—and completely irresistible. A Beautiful Bastard.
Bennett has returned to Chicago from France to take a vital role in his family's massive media business. He never expected that the assistant who'd been helping him from abroad was the gorgeous, innocently provocative—completely infuriating—creature he now has to see every day. Despite the rumors, he's never been one for a workplace hookup. But Chloe's so tempting he's willing to bend the rules—or smash them—if it means he can have her. All over the office.
REVIEW
I'm going to start off this review by saying that I have heard many mixed things about this book, and I think that's why it is has taken me so long to pick it up and give it a chance. I'm really glad that I did. My initial thought when I picked up this book and the read the first few chapters was that it was going to move
really
slow, but it didn't. The quick banter, comments, and action pretty much start right off the bat, and the pace keeps up for the duration of the book.
I suppose the best way to get into talking about this book, is to give it a quick overview. This is the story of Chloe Mills, a hardworking, driven, and very smart MBA student, and her escapades working under her overbearing, hard-ass boss, Bennett Ryan at his family's multi-million dollar media company. The moment that we meet Chloe it is clear right away that she is very smart, drive, and she can give as good as she gets. She wants this MBA, and there is absolutely nothing that is going to stand in the way of her getting it.
Until we meet Bennet Ryan. Apart from the whole, "he's a jerk" I fell for Bennett almost instantly. Yeah, he's a jerk and are the things that he says harsh? You betcha. Just listening to him talk and the comments he makes, it almost made me want to begin bantering and fighting with him, because it seems to be quite enjoyable. I';m not sure that arrogant is the right word to call him, he definitely knows his stuff, and for being so young, he's accomplished quite a bit. He is man who knows what he wants, when he wants it.
"womanizing, arrogant, pigheaded asshat who assumed everyone around him was an idiot."
Chloe and Ryan together just make the story work. Of course, it is their story after all, but just being a witness to everything that's taking place is just really,
really
entertaining. It is so obvious that they're perfect together and they just fit. Despite the whole "hating each other" thing, there was always that attraction there. The way that these two characters interact with one another is a large part of why I think the book is able to keep up the pace that it has. The type of dialogue and how quickly things happen also play a large part.
While I did really enjoy this book, there were a couple of things that I really didn't enjoy. The first being that I wish there would have been a bit more interaction with secondary characters. They're in the story and make appearances, but they also seemed to just be kind of stuck in there story.
This leading into my second issue: loose ends. There was one in particular that happened and that was it. As a reader, I was kind of just left wondering at how it could have been resolved.
Finally, my last issue was how rushed the ending was. The ending made perfect sense, and it fit, but it was just a little too rush and things happened far too quickly. There was plenty that could have been done with it, instead of mashing everything up together.
Overall though, I did really enjoy this book, and I'm sorry that it has taken me so long to getting around to reading it. I'm definitely looking forward to getting into the next books in this series. If you are looking for a quick, hot, highly entertaining read, I suggesting picking this one up!