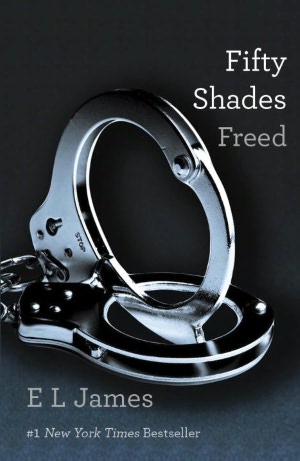 Author: EL James
Publisher:Vintage
Pages:592
Rating: 4.5 Stars
Synopsis: When unworldly student Anastasia Steele first encountered the driver and dazzling young entrepreneur Christian Grey it sparked a sensual affair that changed both of their lives irrevocably. Shocked, intrigued, and ultimately, repelled by Christian's singular erotic tastes, Ana demands a deeper commitment. Determined to keep her, Christian agrees.
Now, Ana and Christian have it all--love,passion, intimacy,wealth, and a world of possibilities for their future. But Ana knows that loving her Fifty Shades will not be easy, and that being together will pose challenges, that neither of them would anticipate. Ana must somehow learn to share Christian's opulent lifestyle without sacrificing her own identity. And Christian must overcome his compulsion to control as he wrestles with the demons of a tormented past.
Just when it seems that their strength together will eclipse any obstacle, misfortune, malice and fate conspire to make Ana's deepest fears turn to reality.
Review:
For me, this entire trilogy was a huge fantasy and I
thoroughly
enjoyed it!
In this final book, we're final able to see how Ana and Christian are moving on with their relationship and their life. A lot of this book, we still find Christan and Ana making an effort in trying to learn more about one another. Of course there are arguments and obstacles that stand in the way for Christian especially in
coming
to terms with realizing how much Ana does care for him.
This was my favourite book in the trilogy. There was more action in this book as opposed to the other two, and it was enough to keep me hooked. One of the only problems that I had with this book, was that I feel like EL James could have probably spread out some of the events in this book a little bit more. There were a few things that were left without answers, but overall, I'm really happy with the way that James has decided to end her trilogy.
I'm aware of how much slack that this trilogy has gotten. And there were times and some instances, when I thought that the writing could have been better. At the end of the day, I really enjoyed all three books, and James has written a story that was able to entertain me. At its heart, this series is a love story , and one that I'm sure will stay with me,and I will continue to enjoy.